Manila, 13 January—Are any of us still making New Year's resolutions? I suppose there's no harm in having some. This year, I'm thinking about focusing on two things: Getting more water into my body, and reading more books. If these sound familiar, that's because I've been having them as New Year's resolution for years. Haha. Wala namang may sabing bawal mag-ulit ng New Year's resolutions, di ba? :)
Anyway. So last year's set of resolutions involved writing more, and I think that went well. I committed to sitting down to write at least one thing every week, and at the end of the year, I had a mixed bag of fifty written things. Looking back, I think this resolution worked because there was a concrete plan to execute it, and progress was measurable.
So this year I'm taking the same approach: I've been monitoring my water intake so I can track just how much more I need to be drinking, and I've been trying to read 20 pages a day in order to end up reading more books in a year (h/t James Clear).
So far, this has been a success: While I still have to improve on my water drinking situation, I have already finished ONE BOOK this year.
Here's Book 1: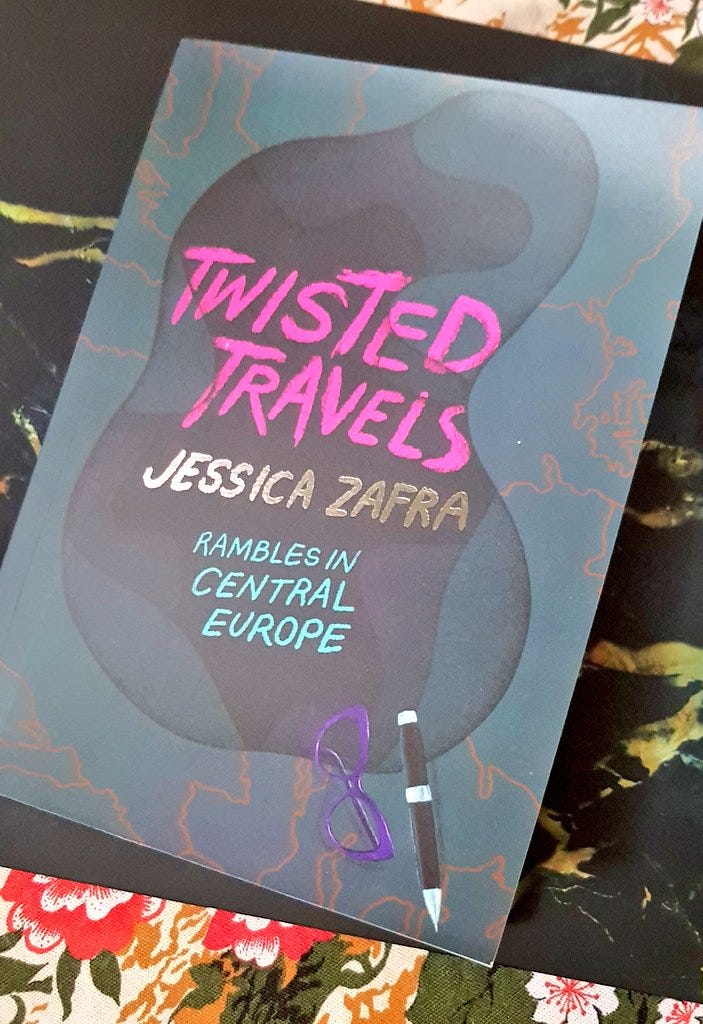 Jessica Zafra's Twisted Travels: Rambles in Central Europe is a compilation of essays about her journeys to Czech Republic, Italy, Austria, France, Hungary, and Poland. To admit, I was quite excited to read her thoughts about Poland, because it's the only country in her book that I've been to before. Verdict: Zafra's humor still gets to me. Loved her Czech Republic piece the most. (Got my copy for P250 at Fully Booked Power Plant)
---
Speaking of books: My girlfriend is trying out dataviz and for her first attempt, her dataset involved books she read in 2011.
Look at how pretty: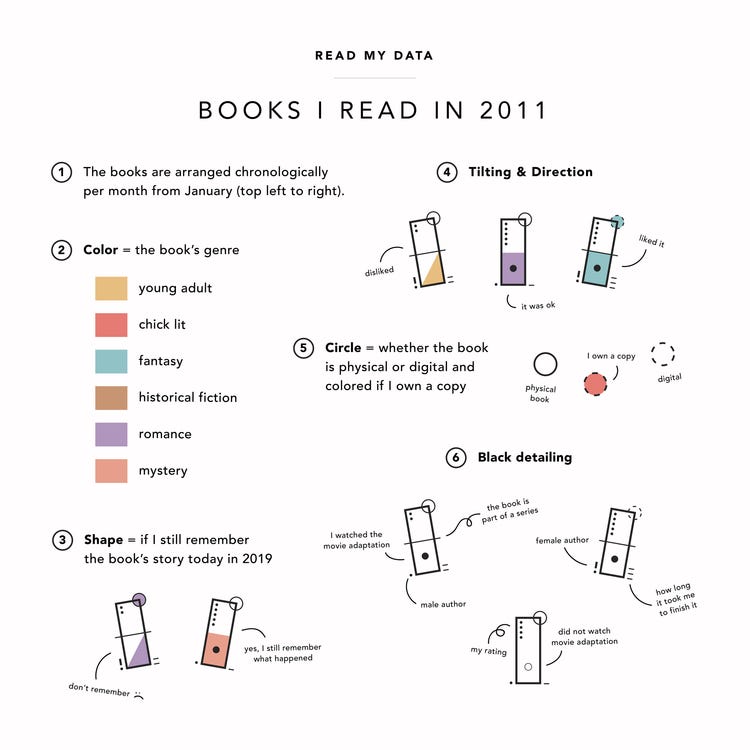 And because she's a nerd like me, she also wrote a bit about it here. I am livid* at the fact that she gets to do a pun for the title AND design something this pretty at first go.
ANYWAY. What goals are you measuring this year? Are there books on your tbr pile that are finally getting read this month? (Mine is Joey Arguelles's Ordinary World) What are you looking forward to this coming week? (As for me, I'm looking forward to my very first Sinulog coverage next weekend!)
Here's hoping this Monday starts your week right.
xo.
*and by livid, I mean proud.