Manila, 16 March—Halfway done with March already! Wow, how did your first couple of weeks go? It's been a whirlwind at work, so we took it upon ourselves to make our after-work hours and weekends count.
Speaking of after-work hours: Have you caught Captain Marvel yet? I've been itching to yell about this for days but I decided to wait a considerable time, because spoilers. It's not perfect, and I wish the amnesia storyline had been a more central element in her Quest for Identity journey (This Atlantic piece summarizes my feelings and made me want to look for fanfic)—
But my god I wish I were a young girl growing up in these times, when I could sit in a cinema with my parents and watch a woman be a bad-ass pilot and a no-holds-barred hero. We need these stories, we need them larger than life and huger than huge. I loved that there was no forced and cringey romantic subplot—so much that I missed the biggest subtext ever.
But man, I was just so happy to see women supporting women on the big screen, but really as someone who has moved from fandom to fandom and subtext to subtext, how could I have missed this?? But yeah, however you wanna play it guys, I support All The Headcanons! :)
---
Speaking of weekends: Last weekend, we were able to catch Gabrielle Aplin live in Wanderland! Her set was amazing—definitely the highlight of that two-day outdoor music festival for me. I hope she comes back to do a full concert sometime! Or maybe participate in an all-women outdoor festival with the rest of them: Imagine having Florence, Lorde, the Haim sisters, Maggie Rogers, Chvrches in the same lineup. Ay wow take my money.
Our other highlight was one of Day 2's headliners, Alina Baraz. The early announcement of her inclusion in the 2019 Wanderland lineup was actually the reason we held onto our tickets. However, Wanderland's audio system conked out when it mattered the most, and Ms Baraz in her frustration cut her set short by 20 minutes.
TWENTY MINUTES. That was definitely robbery =( We were disappointed, yes, but we were mostly embarrassed. We hope Ms Baraz returns to Manila soon!
Buti na lang sexy does not need good audio.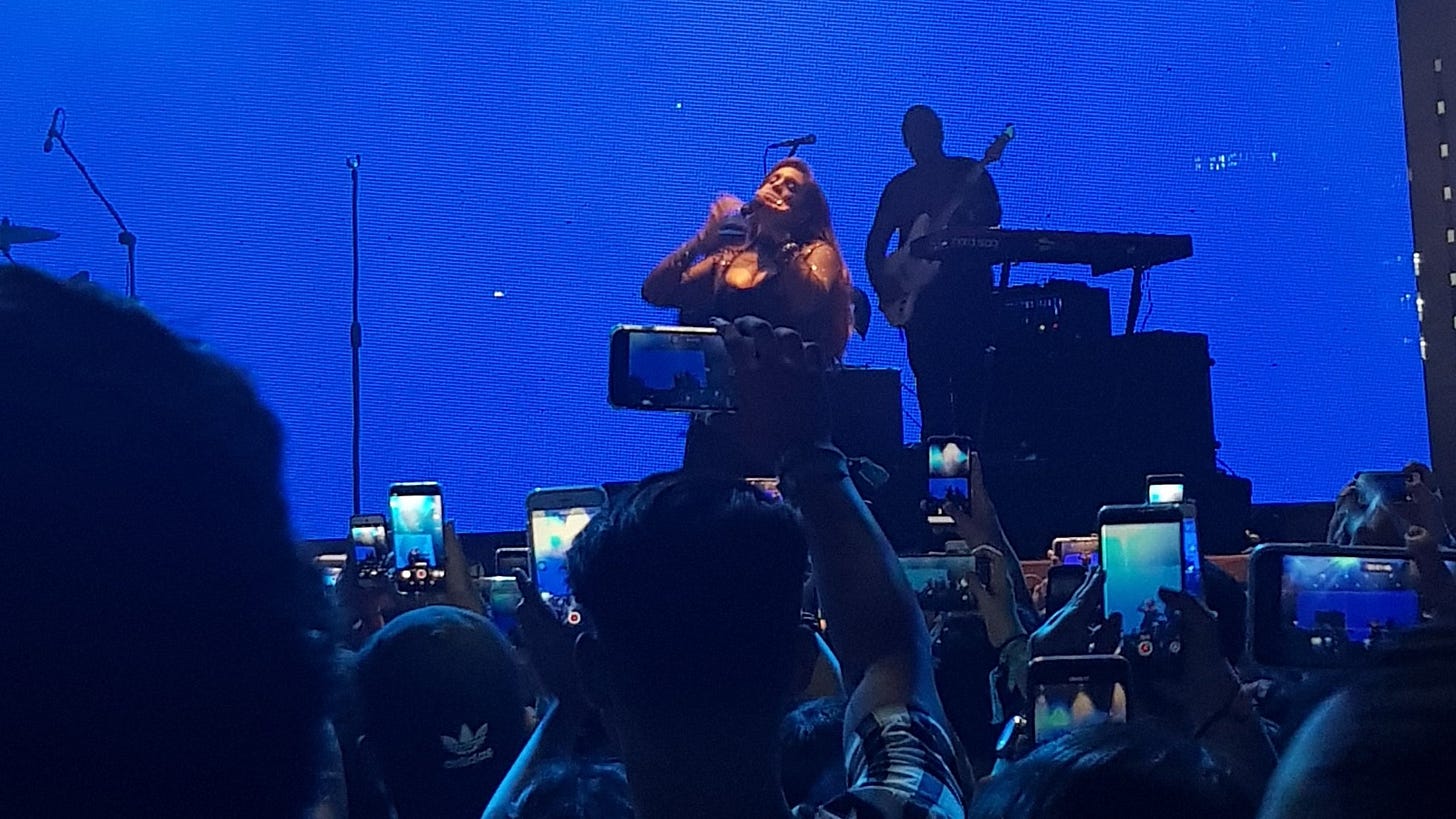 ANYWAY: My I did-not-expect-to-enjoy-this-this-much moment happened during crowd-favorite Two Door Cinema Club's hour-long performance as Day 1 headliner—talaga namang napalaban ako nang lubos.
Man, I felt my age in my knees (Aside: I actually got carded before entering this concert, because the hardworking people manning the entrance handing out alcohol bracelets required an ID. I think I blushed as I handed my UMID over hahaha.)
Anyway—truth is, going back to Alabang, where I spent most of my childhood and teenage years, makes me feel old all the time: There's just so much there now that wasn't there before. You ever get the feeling that you're on the border of knowing and not knowing a place at the same time? That's what ATC feels like to me.
I've always been fascinated about how old haunts make people feel like they're two people all at once, both past and present. ATC makes me feel both young and old—which is different from how UP makes me feel both drunk and sober at the same time. Maybe when a soul steps into old beloved places, they reunite with the version of the soul that never really left. Or at least, that's my theory.
---
Anyway: How's the water situation in your area?
You'd think a water crisis in Metro Manila would already be unimaginable in 2019, but here we are.
Here's a good explainer on why there is water shortage in Manila Water-serviced areas via ABS-CBN, which explains clearly where the water comes from, and why we are where we are today.
I've never really given our water situation much thought apart from my personal obligation to conserve water and ensure that all of the water facilities wherever I lived (faucets, showers, toilets) are free from leaks. But catching up with the whole she-bang and being exposed to all those dam developments reminded me that there are really much much bigger things at play here, and it's not just summer.
---
MEDIA REC ROUNDUP
Nope, not apologizing for that last one. Hahaha.
Happy weekend guys!
xo,