yearender: 2019 in review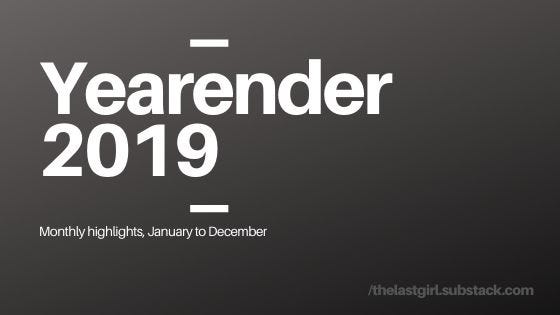 Manila, 25 December—Merry Christmas to you and yours, friends!
This yearender masterpost is the 50th post for this year—I'll try to make two other yearender posts to make it to 52, which has been the original target for this year. Suffice it to say I really did spend a heckin' lot of time trying to keep myself afloat throughout all of Q4, huh.
Anyway, for this yearender I just want to put together some chronological month-on-month highlights as my way of taking stock: Where was I at the beginning of this year? Where am I now? How the fuck did I get here? Hehe.
So, without further ado:
JANUARY
FEBRUARY
MARCH
APRIL
MAY
JUNE
JULY
AUGUST
SEPTEMBER
OCTOBER
NOVEMBER
DECEMBER
As you can see, I love making lists! They make me feel so accomplished haha. Thank you, 2019 self, for this kinda good attempt at documenting our year. It took a while before I got back into a sort of life recording groove, and maybe this year has been a good attempt at it.
How was your 2019? Are you making any yearend lists? Please share them my way!
Hope your holidays are bright and warm.
Xo,
K